YouthLaw is an incorporated society, which is a membership organisation run by an elected board.
We are a registered charity and our Charities Commission number is CC10505.
Here is our latest YouthLaw Strategic Plan
To join YouthLaw as a member, fill out our membership form.
YOUTHLAW AOTEAROA membership form
Our Board is elected by our members at our annual general meeting. You must be a member of YouthLaw to stand for election to our Board and another member must nominate you for the Board.
Our Board currently meets at our office in Manukau or via Zoom once every month for around two hours. If you have an interest in children and young people's rights or community development and you can contribute your time, we'd love to hear from you, particularly if you're under 25.
If you are interested in becoming a Board Member, or want to nominate a member and need more information, please contact info@youthlaw.co.nz
If you are interested in becoming a Board Member please fill in this form Board Member Application Form and send it along with a covering letter and a copy of your CV to info@youthlaw.co.nz
In your covering letter explain why you'd like to be on our Board and what you could contribute. If you would like to nominate someone, fill in this form YouthLaw Aotearoa Board nomination form,
All nominations and applications have now closed for this year. Our AGM was held November 18 2021 via Zoom.
Thanks for your interest.
Annual Report
YouthLaw Aotearoa Annual Report 2021
YouthLaw Aotearoa Annual Report 2020
YouthLaw Aotearoa Annual Report 2019
Find out more about how YouthLaw started and what we do.
Our Story
YouthLaw history 30 years (PDF docment)
A 30th anniversary history of YouthLaw from our founding in 1986.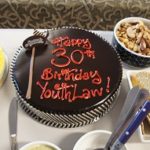 YouthLaw – A Short History 1986-2006 (Word Document)
A 20th anniversary history of YouthLaw