We welcome the support of our volunteers.
There are a variety of volunteer projects that can be suited to the skills and interest of volunteers.
To apply for any of our volunteer roles, please complete the volunteer questionnaire and email to us at admin@youthlaw.co.nz along with your CV. We will let you know if we have a place for you. In order to be accepted into a volunteer position, you must complete the police vetting form and attend the relevant training session held at our office in Manukau, Auckland.
Legal Assistants
Assist with answering phone calls, legal research, client interviews, and assisting lawyers.
Suitable for year two and above law students and graduates.
On-site
On-going and regular  – must complete 1 fixed shift for the entire intake.
3 hours per week (minimum); 3 intakes a year – see the Volunteer Calender 2019 for application and intake dates.
We have two volunteer sessions each workday: 10am to 1pm and 1pm to 4pm. These are at our office in Manukau.
Law reform and research
Assisting, researching and drafting law reform and other research papers under the supervision of our lawyers
Suitable for law, policy and social work students.
On and off-site.
Volunteer hours will be arranged.
Good drafting and communication skills required.
Education Advocate
Advocating for young students and parents with Board Trustee Meetings where young students are attending disciplinary hearings or are about to be excluded.
Suitable for law, education and social work students.
Off-site (training on-site)
Training.
3-5 hours per week on-call roster, often in evenings and short notice.
Legal knowledge in Education law.
Overseas Interns
YouthLaw has hosted law students/graduates from overseas and is frequently asked for our availability and assistance from them. The programme for the overseas interns is a combination of any of the above projects and specifics are discussed with individual volunteer. Please note that spaces are limited and we cannot accept all applicants – it will depend on our ability to supervise and our current range of projects.
Law Related Education (LRE)
Assist and/or provide the law related education sessions with/without the LRE coordinator. Work with young people and/or people dealing with young people to provide legal information
Suitable for law, education and social work students.
Off-site (training on-site)
Training.
3-5 hours per week; on-call roster. Flexibility in hours essential.
Some legal/education knowledge.
Legal Assistant Volunteer Calendar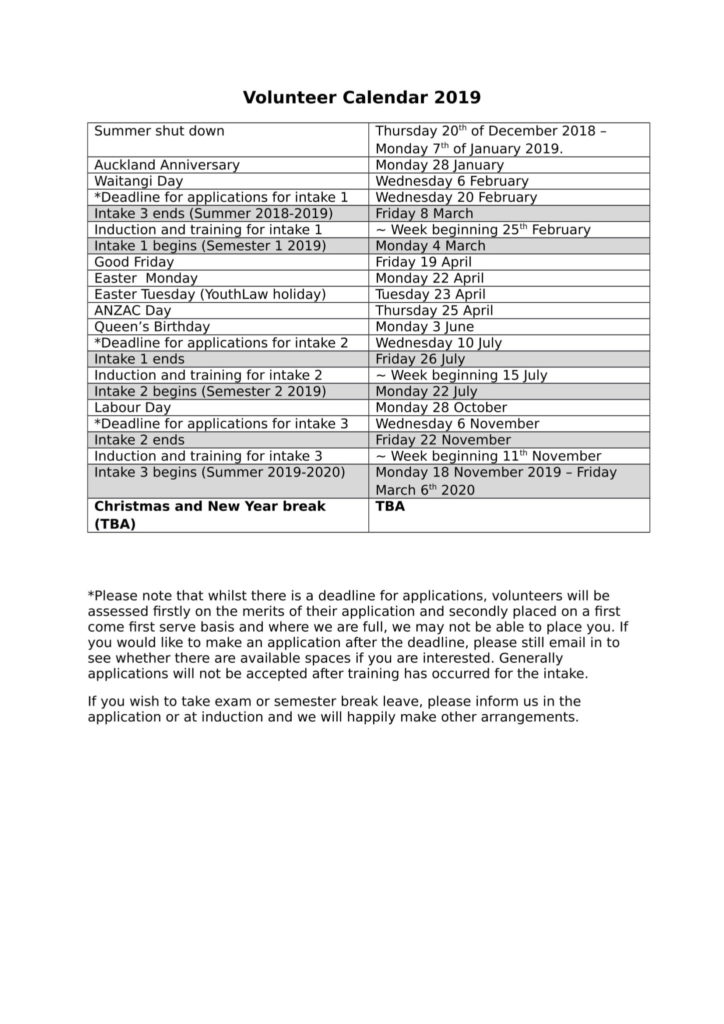 Dates for Legal Assistant Volunteer Intake 1 2019
Training: Week beginning 25th February (TBA) – day-time/full day
Start date: Week of 4 March 2019
End date: Week of 22 July 2019
Christmas and New Year Break: TBA, but definitely no shifts between 24/12/19 – 6/1/20